Your Basic Primer on Chips
In the beginning...there were dice chips.
They were called clay but really weren't. They are injection molded plastic, slugged with metal to give them weight and for advertising purposes, labelled "official casino weight". Which was pure crap.
Most cheap sets you see these days are improved 'dice chips' that look better, may have stickers on them for denominations but are still made exactly the same way as the original dice chips.
Some hints for avoiding these crap chips.
1. if it comes with an aluminum case, with or without some dice - they're crap.
2. if it mentions anywhere "official casino weight", run run run away
3. if you use a magnet and it sticks to the magnet, it's slugged
What do you think? Do these chips sound amazing or what?
Product Features

Casino Style 14 Gram Clay Composite Poker Chips
High quality inlay with a laser graphic ring
Play poker with the look and feel of real casino chips
Available in 10 different denominations
Great for Poker, Blackjack or any other casino game!
So at the top in quality are the casino chips...
Casino chips are made by a very few manufacturers.
1. Real clay chips - the only current manufacter of real clay chips for casinos is Paulson. Their classic company logo is referred to as the 'Top Hat and Cane'. All recent chips have this logo somewhere on the chip - either in the inlay (not a sticker) if it is a custom mold chip, or molded permanently in the chip.
Like this:
Obviously obtaining a real casino set made by Paulson is the top top of sets.
Like mine:
All other manufacturers of real clay chips for casinos have either been bought out by Paulson or have shut down. Manufacturing real clay chips is a closely held secret that is very expensive and labour intensive.
A real clay chip is the ONLY 'clay' chip that will actually wear down with use. Heavily used casino chips will actually become rounded over time. It doesn't take too long. These chips are probably about 4-5 years old in casino life. Now in a home setting, mint chips will last you a lifetime. My chip sets have hundreds of hours of play on them and you would have a hard time telling them from a pure 'mint' chip. In a casino setting however obviously the chips are in play 24/7. Newer casino chips are sometimes referred to as 'can still easily stand on edge' to indicate how much wear they have. Looking at the chips below, a few could still stand on edge but most are worn enough, that it would be not 'easy'.
2. Ceramic chips. The main casino supplier was chipco, which has been bought out by PGI - Palm Gaming International.
Here are some chipco made ceramic casino chips:
So like real clay chips, ceramics will eventually wear down and the face will start to disappear, though it will take much longer than a clay chip. Plastic chips will never wear out, which is why casinos are starting to move to these crap chips.
A worn ceramic with probably 6-8 years of play on it.

3. High grade plastic chips. RTP, Icon, and Bud Jones. Clay chips are so expensive, base costs in quantity are getting close to about $1/chip. Since casinos don't want to lose money when people take chips from the casino, more and more casinos are moving to these cheaper chips, though Bud Jones are much higher end than Icon and RTP.
Fallsview (RTP)
If you don't like how these chips feel, it's because they are plastic crap which suck and are marginally better than dice chips only because they don't have metal slugs in them to make them "official casino weight". Another reason why I hate Fallsview - their chips are cheap crap.
Real casino weight is actually about 8-10 grams. So anything advertised heavier than that, must contain a metal slug. Trust me, you don't really want heavy chips. They suck to play with and sound terrible when you throw them in a pot. Your hand will actually get tired trying to shuffle heavy chips.
What you want is chips that stack well. Well manfactured quality chips like Paulsons stack well. They don't need weight to achieve that.
Bud Jones chips (I hate these because I think they are slippery as hell)
Bud Jones also makes these metal inlay chips, which some people think are cool. But mostly I think they are heavy, slippery crap.
At the bottom end of the scale, are the Icon chips. The really crap casinos use these. Unfortunately due to the economics of making clay chips, once the cost of making a clay chip starts to move significantly over $1, you will see plastics and ceramics become more and more prevalent. Just like the dime and .25 cent chip, soon the $1 clay chip will become extinct.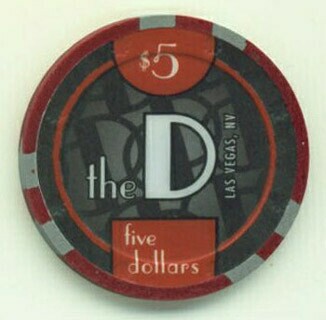 That pretty much covers it for casino chips. Next up: home chips.